Welcome
About Us

Curious Book Shop is a used and rare book store located in downtown East Lansing. Originally started in a basement in 1969, the store has since expanded to three floors of over 50,000 well-organized books, magazines, and other paper items.
We take great pride in supplying books to the community - everything from recent paperbacks to scarce antiquarian titles. Our staff members are knowledgeable and dedicated to good customer service. Shop specialties are science fiction, mystery, children's books, Michigan history, sports memorabilia, and old magazines of every variety. We invite you to stop by and browse.
Regular Hours:

10:00 AM to 7:00 PM Monday-Saturday
12:00 PM to 5:00 PM Sunday
Latest News
As seen on Youtube: Curious Book Shop! Click here to see Curious featured on Focal Point.


Classicon will be Saturday, June 28, 2014!
If you're interested in pulp fiction, pulp magazines, comics, pin-up art, or vintage mysteries and science fiction, this show is absolutely worth a look!
The show features pulp magazines and pulp-related items, including magazines, digests, paperbacks, comic books, pinups, original paperback art, posters, calendars, classic pin-up art, and more.
If you're interested in The Shadow, Doc Savage, Batman, Superman, Wonder Woman, the X Men, Bettie Page, Marilyn Monroe, classic dime novels, classic science fiction . . . this show might be too good to miss!
The next Antiquarian Book Show will be Sunday, October 5, 2014!
New Arrivals
We have expanded our comics section! We currently have boxes of Mad Magazine, Vintage Disney, Spiderman, Classic X-Men, Western Comics, Romance Comics, DC's, Harvey comics (Casper, Richie Rich, etc), and more.
We've recently stocked up on Stephen King, Magic Treehouse, vintage paper dolls and coloring books (unused), blank journals, Doctor Who, and fabulous SIGNED science fiction!
Did you know? You can now find NEW BOOKS at Curious! Our selection includes local authors, Michigan-specific titles, counter-culture titles, modern favorites (including John Green, Neil Gaiman, and Howard Zinn), and some of the latest new releases.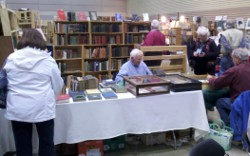 The 59th Michigan Antiquarian Book and Paper Show will be in April, 2014 at the Lansing Center.

Click here to see a sample online show guide! (The guide for the 59th show will be available sometime next spring.)
Book Reviews
Some of Ray's book reviews can be found on our blog, where you can read the full review and browse others from the archive.
Die a Stranger by Steve Hamilton
A book review by Ray Walsh posted on Tuesday, July 3, 2012
7/3/2012 "Die a Stranger" by multiple Edgar award-winning author Steve Hamilton is the ninth in his best selling series starring Alex McKnight
Book Review: Mystery Writers of America Presents Vengeance
A book review by Ray Walsh posted on Sunday, June 24, 2012
6/24/12 If you're getting ready to escape the heat, here's a cool book full of intriguing short stories.
Eli Broads new book captures 'Art' of success
A book review by Ray Walsh posted on Monday, June 18, 2012
6/18/2012 Michigan State University doesn't have many alumni who are multi-billionaires. But Eli Broad, who graduated cum laude in 1954 with a major in accounting and a minor in economics, is certainly among the most successful.
Read more at our online journal, Curiosities!