Book Shows
Since 1985, the Mid-Michigan Antiquarian Book Dealers Association (MMABDA) has coordinated two semiannual book shows in Lansing, Michigan—the Michigan Antiquarian Book & Paper Show and Classicon.
To learn more about previous and upcoming book shows as reported by the media, see in the news. Never attended one of our shows before? Prepare yourself with So You Want to Attend a Book Show, Huh? and The Mystery and Excitement of Classicon!
Upcoming Shows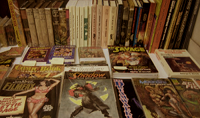 Classicon 45
Saturday, June 28, 2014
$3.00 admission
$25.00 for a dealer table
University Quality Inn (map)
3121 E. Grand River Ave.
Lansing, Michigan
Classicon is one of the first pulp/paperback shows ever established. There are 35 tables and thousands of collectable old Pulp magazines, digests, and paperbacks available for sale or trade. Items include:
Pulps
Calendars
Pinups
Glamour Art magazines
Original paperback art
from the '50s - '60s

Western
Romance
Adventure
Characters/Heroes
Science Fiction
Mystery/Detective

Vintage comics
Petty
Vargas
Classics from the '20s - '60s
Aviation
Read more about Classicon.

60th Michigan Antiquarian Book & Paper Show
Sunday, October 5, 2014 9:30 a.m. - 5:00 p.m.
$5.00 admission
Children 13 and under free
Click here to see a video of the 54th Michigan Antiquarian Book and Paper Show!
Click here for directions to the Lansing center.
Click here to see the guide for the last show.
Read more about the Michigan Antiquarian Book & Paper Show.